Welcome to bushytails.net!
bushytails.net is a resource for all things furry, including artwork, forums, comics, links, and more. We're also the home of the UCSC Furries Club, for furries in and around the University of California, Santa Cruz.

New site! A forum for UCSC furs can be found at http://rtf.zidev.com/.

8/18/2004: Sorry for the bit of downtime there... The server we're hosted on had some hardware problems, and replacing the entire RAID array was required to fix it. At 2am. Give Redwood Virtual some kudos for the timely fix.

Update! The UCSC Furries need officers for fall quarter. If you're going to be a full-time ucsc student fall quarter, and want to help out your fellow furs, send webwolf (who decided he had enough shiny pieces of paper and didn't want another degree) an email to see how you can help. Seeing as we don't have anything planned, not much of your time should be needed... unless you plan on actually scheduling some events, that is.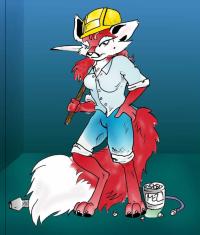 Currently Under Construction
Image Copyright ©Melissa Drake (MelSkunk)